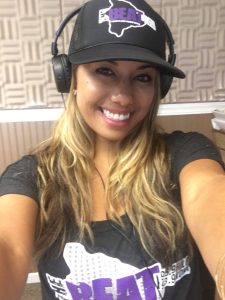 HIAPO
Weeknights 7p-12a
Name: Shyya Nawailohi Hiapo Ha`o
Hometown: Kailua Kona (born & raised)..never left Hawai`i…Mom always left me home when she went.
What do you do when you're not at work: Work at my other job at the Hilton, when I am not working either jobs, I am having fun with my two babies.
Hobbies: Playing with my little `ohana, beach kine stuff, pahteh, or taking naps.
Music : All Kine! R&B, Pop, Hip Hop, Country, Hawaiian, any kine.
Pets: American Pitbull (Azele), mini pitbull (Zyrie, i think she's hapai so I may be a grandma in a few months)
Favorite Food: Daddy's cooking, Hawaiian. Chee!
Favorite Beverage: Convincing myself that it's water, but POG is da bomb (RETHINK YOUR DRINK!) 😉
Favorite Color: What Wiz Khalifa says, BLACK AND YELLOW!
Favorite CD: URSHER (Confessions)
What's playing on your ipod right now?
Most interesting person you've met? My babies, Zhyya-Realize` & Zen-Life`. Kids say the darndest things. I can never predict what they'll say and they don't ever seize to amaze me. So very akamai, yet such sour patch kids.
Most famous person you've met? The actor for War Machine on Iron Man.
Reason I work in Radio? My papa was on KAPA (our sister station) and on other stations, so i have been around the mic since I was able to walk & talk. I guess I inherited the gift of gab.
What would surprise listeners most about you? Hmm.. I have no idea, I'm pretty much an open book, LOL. OH! I was an Ironman last year! hahahahha JK, only for Halloween. Listeners may be surprised that I have two keiki. My son is 5 and my daughter is 3:)