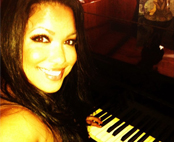 Maelan
Weekdays 10am – 3pm
Name: Maelan
Hometown: Honoka'a (Hamakua Born and Raised)
What do you do when you're not at work: play music, write songs, read, shop
Hobbies: Photography, Reading, Writing, Cooking, Baking, Gardening, Floral Arranging,
Pets: A pack of dogs, a herd of cows, a couple horses, plenty hogs and some chickens.
Favorite Food:  Dessert!!
Favorite Beverage: I'm trying to convince myself that it's water.
Favorite Color: It alternates between black, red and blue
Favorite CD: currently it is Adele's "21"
What's playing on your ipod right now?  the playlist titled "feisty" with songs by Linkin Park, No Doubt, Amy Winehouse, CSS, The Script, Three Days Grace, Rihanna, Jessie J, Katy Perry, The Ting Tings, The Bravery etc……
Most interesting person you've met? My three year old nephew, he asks me the craziest questions and has some killer dance moves.  Oh and did I mention that he's in training to be a stuntman,yeah he gives me panic attacks with the things he is capable of doing for being such a little dude.
Most famous person you've met?  I've met a few people that are famous to me but I can't put a gauge on who would be the most famous, here's a list- BC Jean (songwriter who wrote the song "If I were a boy" sang by Beyonce), Dan Kimpel (an amazing writer from LA), Danny Trejo (this actor I met at one of my gigs, he was in the audience and I was thinking to myself while on stage "where do I know this dude from?" During one of my breaks he came up to talk to me and as we were talking I was asking my typical questions that I ask tourists cause that's the vibe I got from him and then he was like "oh, I'm an actor" and I was like "really?"  And then he went on to tell me what movies he was in and the one they were working on which was "Predators," lets just say I went home and googled him cause everyone but me knew who he was) hmmm, who else, ooh, I've met David Pack from the band Ambrosia, if you don't know who that is you should google him, he's great.  Umm, there's quite a bit more, but I'll leave it at that.
Reason I work in Radio? Have you ever wondered what happens in your radio? Yeah I know I just answered a question with a question but that's exactly the reason why I chose to work in radio. I was curious about how it functions and decided this would be the best way to figure it out.
What would surprise listeners most about you?  I collect Matryoska's, (Russian Nesting Dolls) and wish I had as much of them as I have shoes.